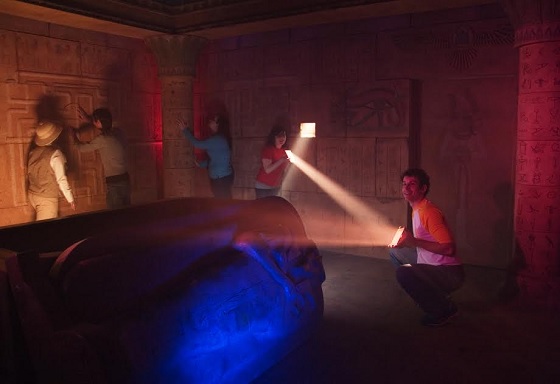 Image of Tomb's sarcophagus illumination puzzle. ©2015, 5 Wits Productions, Inc.  Used by permission.
The first time I visited Boston, I met up with a group of friends and broke into an ancient Egyptian burial chamber. The tomb's resident pharaoh was not exceptionally happy about our flagrant act of trespass, and forced our group of amateur archaeologists to solve a series of puzzles before barely escaping with our lives.
The rooms in the tomb were designed with a family-friendly audience in mind, and our guide throughout the experience embraced his role with an exuberant gusto I had only seen before from a skipper on Disney's Jungle Cruise. The experience managed to make even familiar puzzles feel extraordinary: no matter how many times you've solved Tower of Hanoi puzzles in the comfort of your own home, it's a completely different experience when you're passing oversized pieces across the room while the ceiling is slowly crashing down overhead.
When 5 Wits' puzzle adventure Tomb set up shop in Boston in 2004, it was something of a rarity. The interactive exhibit mixed theatrics with physical puzzles to make its guests feel like swashbuckling adventurers narrowly escaping danger thanks to their collective intelligence. And the design was flexible enough to reward that success, allowing for multiple endings based on groups'  performance. While the original location is now closed, the 5-Wits moved Tomb to Tennessee, launching additional puzzle experiences in Washington DC, Massachusetts, and New York covering themes ranging from undersea exploration to espionage. Over the past decade, this type of immersive puzzle experience has expanded exponentially, with hundreds of locations putting down roots across the globe. For many, visiting the nearest real-life escape room is a day-trip away.
Tens of thousands of years ago, mankind's earliest civilizations were visited by extraterrestrial beings. Due to their superior knowledge and technology, these early visitors were treated as gods. Native Americans knew them as the Sky People. To the Sumerians, they were the Annunaki. Whatever they were called, these visitors came to earth and instructed mankind, leaving behind countless monuments behind. At least, that's what some people claim. The theory commonly referred to as the "ancient astronaut hypothesis" serves as the foundation for a cross-platform collaboration between James Frey's Full Fathom Five, HarperCollins, Google's Niantic Labs, and Fox Searchlight.
According to Endgame's legend, Earth's ancient alien visitors warned mankind that they would return one day for a reckoning known as Endgame. Some believe it to be a punishment for squandering the aliens' enlightenment, and straining earth's resources, while others view it as a method of selecting a favored sub-section of humanity for preservation. Whatever the cause, the nature of Endgame is clear: twelve of the most ancient civilizations must select a teenager to represent their society in a deadly treasure hunt where failure means death — the only survivors of Endgame are the members of the winning civilization. For thousands of years, the twelve societies have been training potential representatives from birth to save their people, in case Endgame should fall to their generation. Finally, after over thirty thousand years, twelve meteorites touched down, signaling the beginning of Endgame, and twelve teenagers started their journey to locate three keys hidden across the globe.
This narrative serves as the core of the Endgame experience across every platform. However, people interested in exploring the world of Endgame are presented with a number of dramatically different ways to interact with the story. For players looking for a solitary experience, puzzles infused into the novel leads to the secret to unlocking approximately $500,000 in gold coins kept on display at Caesars Palace in Las Vegas. For those looking for a more social gaming experience, an alternate reality game delves deeper into Endgame's backstory, while an upcoming mobile app allowing players to take the conflict to the streets in a competitive, PVP style of gameplay.
Read more
Disclosure: Google paid for my flight and lodging for the Recursion event. 
The morning of March 29th, two rival factions gathered at Los Angeles' Grand Park in anticipation for a pitched battle. As noon approached, it became obvious to any passerby that something was going on. Hundreds of people prominently wearing blue and green streamed in through the park steps, conspicuously segregating themselves into colored clumps: blues to the right, and greens to the left. To any random passerby, it must have looked like the staging area for a flash mob. But look a little closer, and you'd see the telltale signs of the virtual battle about to take place. Headphones tapped into private communications channels to coordinate movement. A row of cyclists primed and ready to deploy at a moment's notice. Pennants proudly bearing faction insignia. And more smartphone chargers and batteries than people.
This gathering was an Anomaly event, one of the live events organized by Google's Niantic Labs team for players of their geo-locative mobile game Ingress. Since early February, 25 Anomaly events took place in countries including the United States, Mexico, Belgium, France, Germany, Italy, Croatia, Egypt, Israel, and India for a series of events collectively referred to as the Recursion Anomalies. Los Angeles was the final Anomaly event in the series, and Google invited me out to Los Angeles to experience Google's approach to designing a live event for a massively multiplayer game. Previously, ARGNet explained how Ingress is played at a more casual level. This article explores how gameplay changes for its most ardent fans.
It's a familiar trope: a struggling production company staffed with a cast of eccentric and borderline incompetent employees takes on someone new to shake things up. Some of the best comedies on television start with that premise: WKRP in Cincinnati, NewsRadio, Just Shoot Me, even 30 Rock. But while the shows are about poking fun at the inner workings of media companies, viewers rarely get to see the fictional show's finished product. Growing up I always wondered what it would be like to turn on the radio and get the morning updates from WKRP's Les Nessman, to pick up a copy of Blush off the magazine rack, or to flip the channel to NBC to catch an episode of The Girlie Show. I got a taste of what it might be like when Will Ferrell co-anchored CBS North Dakota affiliate KX News for a night as Ron Burgundy to promote Anchorman 2. MyMusic has spent the past two years delivering on that same promise with a four-course meal.
MyMusic is a transmedia production company seeking to reinvent itself after the social media platform it used as a blogging platform went bankrupt. Looking to find a new home, the company partnered with an up and coming video hosting site called YouTube, signing on as one of its Original Channels. To help with the transition, MyMusic brings on a new head of production, Metal to lend his expertise. Before coming to MyMusic, Metal was known as Emmet Allan Klaga. But the company founder's "Indie" issued an executive decree that all staff members should be known only by the musical genres they represent, because "broad stereotypes are way easier to remember than names." So Klaga became Metal, joining other genred cliches like Idol, Country, Dubstep, Techno, Hip Hop, and Scene. Conformity to these stereotypes is strictly enforced, and being caught "posing" is punished with a fate worse than unemployment.
Starting with Metal's entry to the company in April 2012, MyMusic became the subject of a weekly behind-the-scenes documentary series released on the show's YouTube channel. This self-referential mockumentary forms the heart of the Fine Brothers' YouTube sitcom, MyMusic. Like its fictional counterpart, the MyMusic show was born out of YouTube's Original Channels Initiative, Google's attempt to support premium original content on the site. The Fine Brothers, best known for their Emmy Award-winning React video series featuring focus group-style videos of children, teenagers, YouTubers, and elders reacting to pop culture talking points ranging from Boxxy and twerking to gay marriage. As their next project, the brothers pitched the concept of a weekly scripted series. YouTube accepted MyMusic into the Original Channels Initiative, along with programs like Phillip DeFranco's SourceFed, Hank and John Green's Crash Course, and Frederator Studios' Cartoon Hangover. In addition to providing financing for MyMusic, Google provided the brothers with the use of YouTube Space LA to build MyMusic's set.

When Six to Start created Zombies, Run!, players were given the chance to plug in a pair of headphones and lose themselves in a rich narrative, where you're asked to run to survive. And while Zombies, Run! doesn't require its players to run, the story and many of its game mechanics are built around promoting running. After receiving feedback from fans of the game who aren't avid runners, Six to Start and Naomi Alderman partnered with the UK Department of Health and National Health Service to release The Walk for iOS and Android devices earlier today.
Like Zombies, Run!, the primary feature of The Walk is its narrative, designed to provide audio accompaniment to your walking routine. Mere minutes before an apparent terrorist attack on a train station in Inverness, the player is given a package and told that it is of vital importance the package make it to Edinburgh. The attack is initiated by a group called The Burn and contains an EMP (Electromagnetic Pulse) which takes out all electronics, including all transportation and communication. After escaping from the train station, the package is opened and revealed to be a communication device capable of functioning after the pulse. The person on the other end becomes your guide through the chaos as you make your way on foot to deliver the package to Edinburgh.
Pemberley Digital's The Lizzie Bennet Diaries recently took home a Creative Arts Emmy for Original Interactive Program for its web adaptation of Jane Austen's Pride and Prejudice. The web series reframed Austen's classic in a modern setting, allowing the characters to live out their fictional lives outside the show's main YouTube channel, interacting freely across dozens of social media platforms. On October 7th, the team at Pemberley Digital will be returning to play in Jane Austen's universe with the release of their next major production, Emma Approved. But between The Lizzie Bennet Diaries and Emma Approved, Pemberley Digital turned to one of Jane Austen's lesser-known works for an experiment in transmedia storytelling with Welcome to Sanditon.
As one of California's many Gold Rush boomtowns, the town of Sanditon California was no stranger to rapid change. In The Lizzie Bennet Diaries, William Darcy's company Pemberley Digital developed an experimental video recording platform, Domino. Sanditon's mayor Tom Parker met up with Gigi Darcy at SXSW, and signed up his town as a partner community, giving interested townsfolk the chance to share their lives on the platform through blogs, pictures, and videos. Mayor Parker's aspiration for Sanditon was to transform the city into a vibrant, health-conscious vacation spot, and much of the plot revolved around complications that arose for townsfolk and business owners when the mayor's idealized version of the city conflicted with its reality.
This comes to the fore through the story's main plotline, following the interactions between Sanditon Scoops owner Clara Breton, whose ice cream parlour is targeted for a mayoral-encourage rebranding to juice bar, and Parker's reluctant assistant Edward Denham, who shows a delightful passion for obscure British television. Glitches in the early release of the Domino platform also resulted in bringing a budding romance between the two to the town's attention, resulting in equal parts consternation and glee. While Gigi Darcy has largely stepped into the town to serve as an embedded narrator, Welcome to Sanditon allows her to complete her own narrative arc. Executive producer Jay Bushman viewed Gigi's character as the strongest test cases for transmedia storytelling in The Lizzie Bennet Diaries, making her reprisal through Welcome to Sanditon the end of an 18-month long journey.
Read more