Bad Robot is releasing a new Cloverfield movie on 03-11-16, more than eight years after its cinematic debut. The film, 10 Cloverfield Lane, isn't exactly an official sequel to the original, but has been described by JJ Abrams as a "blood relative" to the film. Whether this blood relative will mark the return of the enigmatic Cloverfield Monster remains to be seen, but the familial resemblance is evident with 10 Cloverfield Lane's new alternate reality game.
It's highly doubtful that a thorough understanding of a eight-year-old viral marketing campaign will be required to enjoy the return to the Cloverfield universe…but then again, it can't hurt to be prepared for anything.
The Mystery of 1-18-08
On July 4, 2007 moviegoers were treated to a trailer for a JJ Abrams film with no name. All they had to go on was shaky footage of the surprise farewell party for a cool dude named Rob, wholesale destruction of property by…something, and a date: 1-18-08.
From the date, players quickly discovered the (now-defunct) 1-18-08.com, which served as home for a growing collection of photographs. Click on a picture and shake it enough, and you might flip it over and find a message or two. Stay on the site long enough, and you might catch a muffled roar. But for the "main" Cloverfield site? That was pretty much it.
The story emerged as players explored beyond the photographs. One path led players to tracking down (now blank) MySpace profiles of a group of friends that would eventually gather for an ill-fated party on January 18, 2008. Yes, MySpace. Hey, it was a different time. Jamie Lascano was particularly active, and set up the website JamieandTeddy.com to document her only slightly creepy long distance relationship with Teddy Hanssen through a series of private vlogs, protected under the password "jllovesth".
Cards Against Humanity gave their fans nothing for Black Friday this year. More specifically, they sold their fans nothing for $5 a person. It was quite the profitable venture for them, too…they earned $71K with their blow-out sale, giving the company's non-founding members a well-deserved holiday bonus. And they'll have earned it, after the logistic nightmare they've endured preparing for another year of Cards Against Humanity's holiday bullshit.
At this point, Cards Against Humanity asking their nearest and dearest fans to give them money in exchange for a series of random gifts (and puzzles) over the holiday season has become a tradition. In 2013, the company embraced their Christmas cheer with 12 Days of Holiday Bullshit, sending 100K fans everything from lumps of coal to personalized Cards Against Humanity Cards. In 2014 the holiday of choice shifted to the Ten Days or Whatever of Kwanzaa, bringing an expanded list of 150K fans good tidings, miracle berries, and rights to a 1×1 square plot on an island in Maine. This year, it's all about Eight Sensible Gifts, embracing their practicality and Hanukkah cheer.
Four years ago, a little over three thousand people raised $72K on Kickstarter to make Six to Start's Zombies, Run a post-apocalyptic reality. The smartphone app allowed runners to step into the role of Abel Township's Runner 5, the largely silent protagonist collecting supplies for the town in a world infested with zombies. Three seasons and over 200 missions later, over a million people purchased the game, following its often heart-wrenching story as Runner 5 gradually gets to know the inhabitants of Abel Township, neighboring settlements, and the truth behind the zombie infestation. And now, with season 4, Zombies, Run has gone free-to-play.
One of the challenges that Zombies, Run faces is that while it's an exceptionally intuitive game to pick up, it's deceptively hard to describe to people who haven't plugged in a pair of headphones and entered a new audio landscape. It's easy to assume the game's appeal is the thrill of the chase: the spike in adrenaline as the moans and groans of an undead horde interrupts an evening jog, and the dread realization that with every step, they're getting closer. And while the zombie chases are a rush, it's an optional feature in a game that focuses on a compelling narrative to convince its players to keep coming back out for more. It's temptation bundling at work – a compelling narrative with fascinating characters you can only encounter while on the move. The ragtag band of survivors in Abel Township has inspired a vibrant fan community.
Zombies, Run's shift to the free-to-play model was intended to help make it easier for people to experience the game. As Zombies, Run co-creator and Six to Start CEO Adrian Hon explains,
[the game] has a great hook but a lot of people still think it's just zombie groans and chases…unlike Monument Valley or 80 Days or Candy Crush, where you can understand the game from just a screenshot or video, Zombies, Run really requires people to try it out…going free-to-play helps people over that hurdle.
So now, players experiencing Zombies, Run for the first time receive access to the first four missions of season 1 right off the bat. Once a week, they have the ability to unlock a new mission to add to their growing repertoire. As a thank you to returning players, anyone who previously purchased a copy of Zombies, Run receives the first three seasons for free, and can use their weekly mission downloads to gradually claim the newest season as it's released.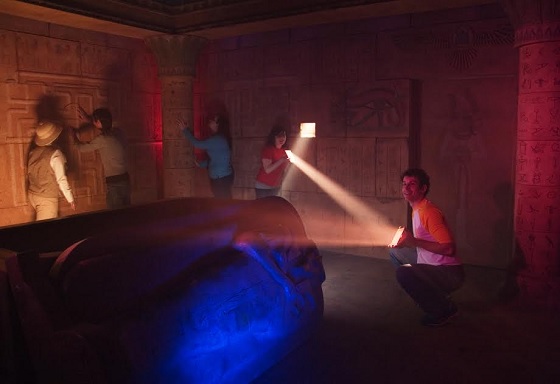 Image of Tomb's sarcophagus illumination puzzle. ©2015, 5 Wits Productions, Inc.  Used by permission.
The first time I visited Boston, I met up with a group of friends and broke into an ancient Egyptian burial chamber. The tomb's resident pharaoh was not exceptionally happy about our flagrant act of trespass, and forced our group of amateur archaeologists to solve a series of puzzles before barely escaping with our lives.
The rooms in the tomb were designed with a family-friendly audience in mind, and our guide throughout the experience embraced his role with an exuberant gusto I had only seen before from a skipper on Disney's Jungle Cruise. The experience managed to make even familiar puzzles feel extraordinary: no matter how many times you've solved Tower of Hanoi puzzles in the comfort of your own home, it's a completely different experience when you're passing oversized pieces across the room while the ceiling is slowly crashing down overhead.
When 5 Wits' puzzle adventure Tomb set up shop in Boston in 2004, it was something of a rarity. The interactive exhibit mixed theatrics with physical puzzles to make its guests feel like swashbuckling adventurers narrowly escaping danger thanks to their collective intelligence. And the design was flexible enough to reward that success, allowing for multiple endings based on groups'  performance. While the original location is now closed, the 5-Wits moved Tomb to Tennessee, launching additional puzzle experiences in Washington DC, Massachusetts, and New York covering themes ranging from undersea exploration to espionage. Over the past decade, this type of immersive puzzle experience has expanded exponentially, with hundreds of locations putting down roots across the globe. For many, visiting the nearest real-life escape room is a day-trip away.
Images of the Reddit expedition to Hawaii 2 courtesy of Pewwer42
Shortly after Christmas, a group of Redditors met up, planning on making the trek to an uninhabited island near Lake Saint George Park in Maine. Previous expeditions to the island confirmed the presence of a wooden shed containing a massive safe at the southern tip of the island: but without the six digit passcode to unlock it, the safe's contents remained a mystery. Finally, after almost a month of poring over websites, YouTube videos, and physical mailings, community members felt fairly confident they had the passcode that would unveil the safe's contents.
All this, because of a bit of Holiday Bullshit.
A Little Bullshit Backstory

For this year's Black Friday promotion, Cards Against Humanity made headlines by removing their popular card game from the market, and replacing it with Black Friday Bullshit – for $6, the company would mail its customers literal bullshit in a box. No more, and no less. At the same time, the company was promoting a separate dose of bullshit for the holidays. While the Black Friday Bullshit promotion was perfectly clear in what it was offering, Cards Against Humanity's Ten Days or Whatever of Kwanzaa promotion at HolidayBullshit.com provided almost no guidance about what it would deliver: only that, for $15, the company would send ten mailings containing…just about anything.
Fans of the company had some idea of what they might expect by using the previous year's Holiday Bullshit mailings as guidance: a handful of exclusive and personalized Cards Against Humanity cards, a miniaturized prototype of a game, a few comics, maybe a charitable donation to a worthy cause. But for the most part, $15 purchased the ability to find a surprise waiting in the mailbox for a few days…alongside access to an expansive puzzle hunt that promised to be bigger than the last.
In November 2012, Google introduced its Ingress scanner app to the Google Play store. And for almost two years, the central point of interaction for Google's deeply immersive alternate reality game has been an Android exclusive. That changes today: with the release of Ingress's scanner app to the iTunes Store, the world of Ingress has officially rolled out on iOS devices.
The Ingress scanner app asks players to join the green Enlightened or blue Resistance faction in a battle for control over portals tied to real world landmarks. The game has a sizeable player base within the Android community. Over 12,000 players have gathered for the game's frequent live events in cities across the globe so far in 2014, and the game boasts over 4 million downloads. With the expansion into iOS devices, an influx of new players is likely.
To help ease new players into the game, Ingress is introducing new elements to ease the transition into a deep narrative running beneath the game's surface, and a community that continues to blossom as they take on increasingly extravagant challenges. The primary conduit for introducing new players to the world of Ingress is a new web series featuring two sisters who signed up to play the game for opposite factions, Ingress Obsessed, complementing the existing Ingress Report videos.