"All art movements start with a small group of friends…when historians look back on this phase in art, the movement that we will be a part of, what they will marvel at is how interconnected we are." Brian Clark was fascinated with the formation of movements and creating scenes, and was tireless in his efforts to foster a community of creators looking to find new ways of telling stories in the digital age. Yesterday, Brian passed away after a brief bout with cancer, leaving behind a community and industry he affected deeply.
As president of GMD Studios (originally Global Media Design), Clark helped construct the web realities for Nothing So Strange and Freakylinks, extending the narrative storytelling of film and television onto the internet. He continued exploring different ways of telling stories through his work on beloved alternate reality games like Sega's Beta-7, Audi's Art of the Heist, and Eldritch Errors. His projects delighted in stretching the boundaries of fictional worlds outside their comfort zones, asking players to do everything from "stealing" SD cards out of cars on display at events to joining characters at a Lovecraftian cabin in the woods.
Clark worked tirelessly behind the scenes to mentor new creators in the space, offering them help on everything from the craft of subversive storytelling to the realities of running a small business, including knowing what to charge for their work. He delighted in playing with other peoples' creations and testing their limits, whether that meant donning a Ronald Reagan mask and dancing under his "Jihadi Jazzhands" persona, or creating a well-endowed, chain-smoking sock puppet named "She-Crab" for a game originally intended for children. He was an irrepressible prankster, leading to frequently outlandish conversations punctuated by his staccato laughter.
His impact was not limited to the alternate reality gaming and transmedia storytelling arenas: he was a founding member of Indiewire, helped create an online marketplace for brand journalism, worked on a documentary about the next generation of astronauts, has been accused on occassion of inventing the spambot, and found a creative use for LinkedIn's "endorsements" functionality.
More than anything, he's been the dynamo that vociferously argued for the people who knew him to resist complacency, pushing them to make things to see if they'd work, and to figure out what went wrong when they didn't. People impacted by Clark have turned to Facebook to offer their condolences and share their memories of him by sharing "things I learned from Brian Clark".
We're going to miss you, Brian. You took your not-so-small group of friends, and fused them into something bigger through the generosity of your friendship and the sheer force of your personality.
Four years ago, a little over three thousand people raised $72K on Kickstarter to make Six to Start's Zombies, Run a post-apocalyptic reality. The smartphone app allowed runners to step into the role of Abel Township's Runner 5, the largely silent protagonist collecting supplies for the town in a world infested with zombies. Three seasons and over 200 missions later, over a million people purchased the game, following its often heart-wrenching story as Runner 5 gradually gets to know the inhabitants of Abel Township, neighboring settlements, and the truth behind the zombie infestation. And now, with season 4, Zombies, Run has gone free-to-play.
One of the challenges that Zombies, Run faces is that while it's an exceptionally intuitive game to pick up, it's deceptively hard to describe to people who haven't plugged in a pair of headphones and entered a new audio landscape. It's easy to assume the game's appeal is the thrill of the chase: the spike in adrenaline as the moans and groans of an undead horde interrupts an evening jog, and the dread realization that with every step, they're getting closer. And while the zombie chases are a rush, it's an optional feature in a game that focuses on a compelling narrative to convince its players to keep coming back out for more. It's temptation bundling at work – a compelling narrative with fascinating characters you can only encounter while on the move. The ragtag band of survivors in Abel Township has inspired a vibrant fan community.
Zombies, Run's shift to the free-to-play model was intended to help make it easier for people to experience the game. As Zombies, Run co-creator and Six to Start CEO Adrian Hon explains,
[the game] has a great hook but a lot of people still think it's just zombie groans and chases…unlike Monument Valley or 80 Days or Candy Crush, where you can understand the game from just a screenshot or video, Zombies, Run really requires people to try it out…going free-to-play helps people over that hurdle.
So now, players experiencing Zombies, Run for the first time receive access to the first four missions of season 1 right off the bat. Once a week, they have the ability to unlock a new mission to add to their growing repertoire. As a thank you to returning players, anyone who previously purchased a copy of Zombies, Run receives the first three seasons for free, and can use their weekly mission downloads to gradually claim the newest season as it's released.
You enter a dimly lit room. As you cross the threshold, you're handed a mobile device and directed to stand over a luminescent circle on the floor, facing the curved video screen taking up an entire wall. Colored lights stream down from overhead, dividing you and your fellow players into teams. After keying in your location to your controller, you're ready to dive into a moderately massive multi-player game. You're ready for Eddie's Social Committee.
Created by Edwin Schlossberg and ESI Design, Eddie's Social Committee (ESC) is a platform for highly immersive multi-player gaming, delivering social gaming writ large, synchronizing large screen gameplay with dynamic lighting and haptic feedback for a surround-sound experience. Souped-up iPod Touch controllers drive the experience, allowing players to tap, swipe, and tilt their avatars through a series of mini-games with the room's lighting programmed to literally shine a spotlight on each game's top performers.
Emma Wilson's journal, on digdecoded.com
The premiere of Dig, Tim Kring and Gideon Raff's newest thriller on USA Network, DIG, is only two weeks away. But in many ways, the 10-episode series remains an enigma. In DIG, FBI agent Peter Connely (played by Harry Potter veteran Jason Isaacs) is stationed in Jerusalem, and finds himself tangled in a 2,000 year old conspiracy while digging into the murder of a young American. Beyond that, there are only tantalyzing trailers hinting at something hidden in the Promised Land to whet the appetite. Fans will just have to wait and see where the producers of Heroes and Homeland will be going with the mystery…unless, of course, the answer can be found buried deep within the show's alternate reality game, DIG Decoded.
The DIG promotional engine has been revving up for a while now, with an official prequel novella posted to Wattpad that introduced the curious to Connely's previous case for the FBI, tracking down the cyber-criminal known only as "Akula" for the theft of $25 million from the US Treasury across the streets of Jerusalem. The tale introduces Connely to the reader, along with Jerusalem's FBI office head Lynn Monahan (played by Anne Heche) and Israeli detective Golan Cohen (played by Ori Pfeffer). USA Network announced a series of room escape games that will provide further insight into the world of DIG, with free puzzle adventures going live in New York, Boston, Philadelphia, Hollywood, and Orlando starting February 26.
Many of the transmedia storytelling elements for DIG are scheduled to build up hype for the show's March 5 launch, but the DIG Decoded alternate reality game that launched on February 19 is set to run in parallel with the show, with weekly installments adding to the narrative through the show's May finale. While DIG's Wattpad story introduced fans to the show's major players from law enforcement, the DIG Decoded alternate reality game prominently features the show's archaeological cast. The story begins through the lens of a journal compiled by archaeologist Emma Wilson (played by A Fine Frenzy's Alison Sudol), whose story drives the initial narrative. In the introductory chapter of the ARG, a series of photographs, news clippings, text messages, journal articles and videos follow Wilson from her fellowship at the University of Pennsylvania to participate in a dig at the Temple Mount, one of Jerusalem's holiest locations.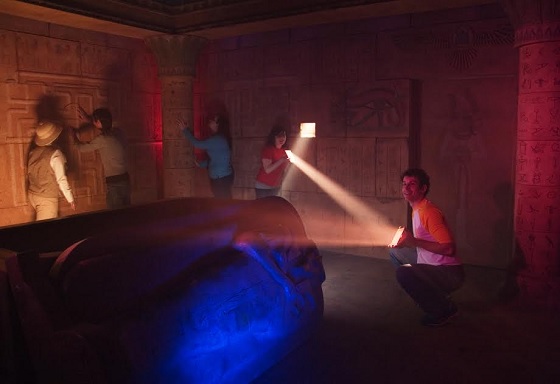 Image of Tomb's sarcophagus illumination puzzle. ©2015, 5 Wits Productions, Inc.  Used by permission.
The first time I visited Boston, I met up with a group of friends and broke into an ancient Egyptian burial chamber. The tomb's resident pharaoh was not exceptionally happy about our flagrant act of trespass, and forced our group of amateur archaeologists to solve a series of puzzles before barely escaping with our lives.
The rooms in the tomb were designed with a family-friendly audience in mind, and our guide throughout the experience embraced his role with an exuberant gusto I had only seen before from a skipper on Disney's Jungle Cruise. The experience managed to make even familiar puzzles feel extraordinary: no matter how many times you've solved Tower of Hanoi puzzles in the comfort of your own home, it's a completely different experience when you're passing oversized pieces across the room while the ceiling is slowly crashing down overhead.
When 5 Wits' puzzle adventure Tomb set up shop in Boston in 2004, it was something of a rarity. The interactive exhibit mixed theatrics with physical puzzles to make its guests feel like swashbuckling adventurers narrowly escaping danger thanks to their collective intelligence. And the design was flexible enough to reward that success, allowing for multiple endings based on groups'  performance. While the original location is now closed, the 5-Wits moved Tomb to Tennessee, launching additional puzzle experiences in Washington DC, Massachusetts, and New York covering themes ranging from undersea exploration to espionage. Over the past decade, this type of immersive puzzle experience has expanded exponentially, with hundreds of locations putting down roots across the globe. For many, visiting the nearest real-life escape room is a day-trip away.
Image courtesy of Investigate North
Kathleen Petersen, Deputy Director of Research at the Petersen institute, has gone missing. Hoping to learn what became of Kathleen, her co-workers Max and Thomas shared the footage of their investigations into the mysterious signal they were tasked with investigating at the Institute…the same signal that heralded Kathleen's gradual emotional deterioration and disappearance.
Investigate North's Cloud Chamber is a video game that attempts to cleanse itself of nearly every design element typically associated with video games. In it, players assume the role of investigator, poring through video footage and scanned evidence to piece together the exact nature of the Petersen Institute's research into the enigmatic signal, and to figure out what happened to Kathleen. Stripped of traditional methods of interaction, players unlock a branching spiderweb of evidence by selecting a piece of evidence represented by a node, exploring it, and discussing the new information's implications with fellow players.
The evidence in Cloud Chamber is presented with minimal context, organizing the evidence thematically rather than chronologically. For example, in Part I, where the focus is on Kathleen's disappearance, players are thrust into the experience through a computer-generated island and presented with a single question, "What is the Signal?" Selecting that question pulls up a video that begins the faux documentary in media res, as the game's three protagonists break into the Petersen Institute's roof. While there, the three tap into a massive antenna to listen to a signal without ever properly introducing who they are, why they are interested in the signal, or even what it sounds like. Watching that video unlocks a winding path along the island to "Her Decision", a series of short, unordered snippets showing a frazzled Kathleen's emotional deterioration before finally unlocking the video "You are Entering", where Max and Thomas explain that they plan on releasing everything they've learned and appeal for the player's help in finding out what happened to Kathleen.
The game's story nodes focus on delivering a high level of authenticity, while the game engine itself delivers a surreal context that takes players from the initial island into increasingly surreal dreamscapes that resemble everything from outer space to neural networks. The juxtaposition of story and game environment should be jarring. But somehow, switching back and forth from the story's "found footage" storytelling format to an abstract web of connections makes it easier to fall into an almost trance-like state while progressing.