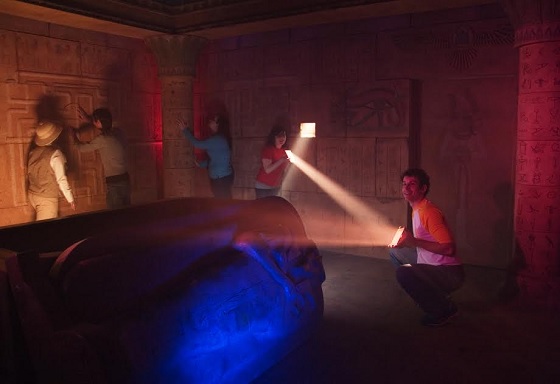 Image of Tomb's sarcophagus illumination puzzle. ©2015, 5 Wits Productions, Inc.  Used by permission.
The first time I visited Boston, I met up with a group of friends and broke into an ancient Egyptian burial chamber. The tomb's resident pharaoh was not exceptionally happy about our flagrant act of trespass, and forced our group of amateur archaeologists to solve a series of puzzles before barely escaping with our lives.
The rooms in the tomb were designed with a family-friendly audience in mind, and our guide throughout the experience embraced his role with an exuberant gusto I had only seen before from a skipper on Disney's Jungle Cruise. The experience managed to make even familiar puzzles feel extraordinary: no matter how many times you've solved Tower of Hanoi puzzles in the comfort of your own home, it's a completely different experience when you're passing oversized pieces across the room while the ceiling is slowly crashing down overhead.
When 5 Wits' puzzle adventure Tomb set up shop in Boston in 2004, it was something of a rarity. The interactive exhibit mixed theatrics with physical puzzles to make its guests feel like swashbuckling adventurers narrowly escaping danger thanks to their collective intelligence. And the design was flexible enough to reward that success, allowing for multiple endings based on groups'  performance. While the original location is now closed, the 5-Wits moved Tomb to Tennessee, launching additional puzzle experiences in Washington DC, Massachusetts, and New York covering themes ranging from undersea exploration to espionage. Over the past decade, this type of immersive puzzle experience has expanded exponentially, with hundreds of locations putting down roots across the globe. For many, visiting the nearest real-life escape room is a day-trip away.
Image courtesy of Investigate North
Kathleen Petersen, Deputy Director of Research at the Petersen institute, has gone missing. Hoping to learn what became of Kathleen, her co-workers Max and Thomas shared the footage of their investigations into the mysterious signal they were tasked with investigating at the Institute…the same signal that heralded Kathleen's gradual emotional deterioration and disappearance.
Investigate North's Cloud Chamber is a video game that attempts to cleanse itself of nearly every design element typically associated with video games. In it, players assume the role of investigator, poring through video footage and scanned evidence to piece together the exact nature of the Petersen Institute's research into the enigmatic signal, and to figure out what happened to Kathleen. Stripped of traditional methods of interaction, players unlock a branching spiderweb of evidence by selecting a piece of evidence represented by a node, exploring it, and discussing the new information's implications with fellow players.
The evidence in Cloud Chamber is presented with minimal context, organizing the evidence thematically rather than chronologically. For example, in Part I, where the focus is on Kathleen's disappearance, players are thrust into the experience through a computer-generated island and presented with a single question, "What is the Signal?" Selecting that question pulls up a video that begins the faux documentary in media res, as the game's three protagonists break into the Petersen Institute's roof. While there, the three tap into a massive antenna to listen to a signal without ever properly introducing who they are, why they are interested in the signal, or even what it sounds like. Watching that video unlocks a winding path along the island to "Her Decision", a series of short, unordered snippets showing a frazzled Kathleen's emotional deterioration before finally unlocking the video "You are Entering", where Max and Thomas explain that they plan on releasing everything they've learned and appeal for the player's help in finding out what happened to Kathleen.
The game's story nodes focus on delivering a high level of authenticity, while the game engine itself delivers a surreal context that takes players from the initial island into increasingly surreal dreamscapes that resemble everything from outer space to neural networks. The juxtaposition of story and game environment should be jarring. But somehow, switching back and forth from the story's "found footage" storytelling format to an abstract web of connections makes it easier to fall into an almost trance-like state while progressing.
Images of the Reddit expedition to Hawaii 2 courtesy of Pewwer42
Shortly after Christmas, a group of Redditors met up, planning on making the trek to an uninhabited island near Lake Saint George Park in Maine. Previous expeditions to the island confirmed the presence of a wooden shed containing a massive safe at the southern tip of the island: but without the six digit passcode to unlock it, the safe's contents remained a mystery. Finally, after almost a month of poring over websites, YouTube videos, and physical mailings, community members felt fairly confident they had the passcode that would unveil the safe's contents.
All this, because of a bit of Holiday Bullshit.
A Little Bullshit Backstory

For this year's Black Friday promotion, Cards Against Humanity made headlines by removing their popular card game from the market, and replacing it with Black Friday Bullshit – for $6, the company would mail its customers literal bullshit in a box. No more, and no less. At the same time, the company was promoting a separate dose of bullshit for the holidays. While the Black Friday Bullshit promotion was perfectly clear in what it was offering, Cards Against Humanity's Ten Days or Whatever of Kwanzaa promotion at HolidayBullshit.com provided almost no guidance about what it would deliver: only that, for $15, the company would send ten mailings containing…just about anything.
Fans of the company had some idea of what they might expect by using the previous year's Holiday Bullshit mailings as guidance: a handful of exclusive and personalized Cards Against Humanity cards, a miniaturized prototype of a game, a few comics, maybe a charitable donation to a worthy cause. But for the most part, $15 purchased the ability to find a surprise waiting in the mailbox for a few days…alongside access to an expansive puzzle hunt that promised to be bigger than the last.
Cards Against Humanity doesn't approach its marketing efforts like most companies. Nominally, they sell a highly irreverent card game where players compete to find the most outrageous response to a prompt from their hand of cards. In practice, the Chicago-based company has used its past successes to finance a series of elaborate pranks to entertain its ardent fanbase and transform purchasing a casual party game into an experience…which is a good thing, since they give the game away for free on their website (some printing required). Two years ago they celebrated the holidays with a pay-what-you-want expansion pack, and then released an infographic breaking down how much people paid and donating the proceeds to charity. To encourage players to buy the expansion sets, the company sold an extra-long box for holding the game, The Bigger Blacker Box, to store the cards. Without telling anyone, they hid a secret card in the inner lining of the box. For their Black Friday sale last year, they increased prices. When they took out advertisements at last year's PAX East, they used the platform to promote their made-up company, PWNMEAL: Extreme Gaming Oatmeal.
All of these efforts pale in comparison to the company's Holiday Bullshit campaign. Last year, Cards Against Humanity asked 100,000 people to give them $12 in exchange for 12 mystery gifts from the company as part of its 12 Days of Holiday Bullshit. As thanks, the company donated $100K to DonorsChoose.org, sent out an early edition of a sex party-themed card game, mailed limited edition customized Cards Against Humanity cards, and even sent fans a lump of coal. And hidden within each mailing? A fiendish puzzle that took fans working together on Reddit's holidaybullshit subreddit months to solve. Holiday Bullshit is back once more, promises to deliver an even harder puzzle than before.
In the tarot card deck of Talbot Griffin's life, the first card on the table would most likely be The Fool, that familiar vagabond traveler blithely setting out into the unknown. Scrolling through his social media accounts, Griffin's audience can piece together a whimsical portrait of a happy-go-not-so-lucky young musician whose life has hit a few bumps in the road. After making a pilgrimage to Jim Morrison's grave in the Paris cemetery Père Lachaise, Griffin returned to New York City to find his life taking a sharp curve. His girlfriend leaves him. His boss fires him. And he's got to find a new place to live. What's a rising superstar musician to do? "Borrow" his grandfather's '67 Mustang and take a cross-country road trip to Los Angeles, where fame and fortune await him, of course!
As Griffin travels, elusive song lyrics distract and disturb him, a cut on his arm festers and refuses to heal, and the same creepy hitchhiker mysteriously appears in several stops along the way. Where is Talbot Griffin really going, and what waits for him at the end of the road?
Described by its creators as "a ghost story for the digital age," Dark Detour, the tale of musician Talbot Griffin and his travels, is a comedy-horror tale that makes use of several social media platforms, allowing the audience to follow Talbot Griffin's harrowing adventures in real time. The interactive ghost story will wrap up on Halloween, and comes with its very own safe word – MIMEKILLER – that audience members can use to opt out of the experience at any time if it becomes too intense.
This independent project is produced by a creative team led by Alison Norrington of StoryCentral and Steve Peters of No Mimes Media, along with creative consultants Brian Clark, Jan Libby, Blair Erickson, and Mike Monello. Peters and Norrington raised funds to produce the project through an Indiegogo campaign, with Clark, Libby, Erickson, and Monello added to the team through the campaign's stretch goals. Perks for campaign backers included postcards, dashboard hula girls, project consultations, and "a personalized phone call to scare the crap out of you on or around Halloween night."
Tens of thousands of years ago, mankind's earliest civilizations were visited by extraterrestrial beings. Due to their superior knowledge and technology, these early visitors were treated as gods. Native Americans knew them as the Sky People. To the Sumerians, they were the Annunaki. Whatever they were called, these visitors came to earth and instructed mankind, leaving behind countless monuments behind. At least, that's what some people claim. The theory commonly referred to as the "ancient astronaut hypothesis" serves as the foundation for a cross-platform collaboration between James Frey's Full Fathom Five, HarperCollins, Google's Niantic Labs, and Fox Searchlight.
According to Endgame's legend, Earth's ancient alien visitors warned mankind that they would return one day for a reckoning known as Endgame. Some believe it to be a punishment for squandering the aliens' enlightenment, and straining earth's resources, while others view it as a method of selecting a favored sub-section of humanity for preservation. Whatever the cause, the nature of Endgame is clear: twelve of the most ancient civilizations must select a teenager to represent their society in a deadly treasure hunt where failure means death — the only survivors of Endgame are the members of the winning civilization. For thousands of years, the twelve societies have been training potential representatives from birth to save their people, in case Endgame should fall to their generation. Finally, after over thirty thousand years, twelve meteorites touched down, signaling the beginning of Endgame, and twelve teenagers started their journey to locate three keys hidden across the globe.
This narrative serves as the core of the Endgame experience across every platform. However, people interested in exploring the world of Endgame are presented with a number of dramatically different ways to interact with the story. For players looking for a solitary experience, puzzles infused into the novel leads to the secret to unlocking approximately $500,000 in gold coins kept on display at Caesars Palace in Las Vegas. For those looking for a more social gaming experience, an alternate reality game delves deeper into Endgame's backstory, while an upcoming mobile app allowing players to take the conflict to the streets in a competitive, PVP style of gameplay.
Read more