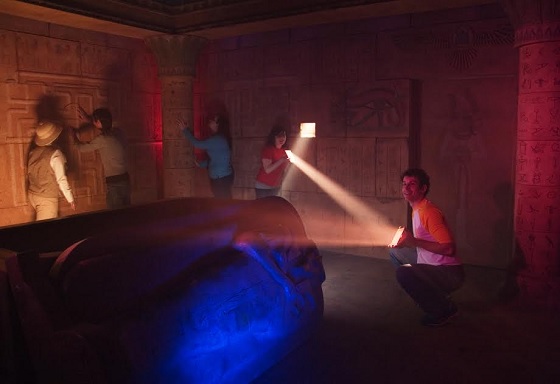 Image of Tomb's sarcophagus illumination puzzle. ©2015, 5 Wits Productions, Inc.  Used by permission.
The first time I visited Boston, I met up with a group of friends and broke into an ancient Egyptian burial chamber. The tomb's resident pharaoh was not exceptionally happy about our flagrant act of trespass, and forced our group of amateur archaeologists to solve a series of puzzles before barely escaping with our lives.
The rooms in the tomb were designed with a family-friendly audience in mind, and our guide throughout the experience embraced his role with an exuberant gusto I had only seen before from a skipper on Disney's Jungle Cruise. The experience managed to make even familiar puzzles feel extraordinary: no matter how many times you've solved Tower of Hanoi puzzles in the comfort of your own home, it's a completely different experience when you're passing oversized pieces across the room while the ceiling is slowly crashing down overhead.
When 5 Wits' puzzle adventure Tomb set up shop in Boston in 2004, it was something of a rarity. The interactive exhibit mixed theatrics with physical puzzles to make its guests feel like swashbuckling adventurers narrowly escaping danger thanks to their collective intelligence. And the design was flexible enough to reward that success, allowing for multiple endings based on groups'  performance. While the original location is now closed, the 5-Wits moved Tomb to Tennessee, launching additional puzzle experiences in Washington DC, Massachusetts, and New York covering themes ranging from undersea exploration to espionage. Over the past decade, this type of immersive puzzle experience has expanded exponentially, with hundreds of locations putting down roots across the globe. For many, visiting the nearest real-life escape room is a day-trip away.
For Real Escape Game's North American debut, 9 out of 10 participants failed to escape from Werewolf Village in time. While this might sound like an abyssmal failure rate, it's par for the course for Takao Kato's narrative puzzle experiences, inspired by online "Escape the Room" games. During Escape from the Werewolf Village, visitors to San Francisco's NEW PEOPLE center in Japantown were locked in the 3rd floor of the venue's SUPERFROG Gallery for 90 minutes and charged with solving a series of puzzles leading up to the big escape. Over the next few weeks, Real Escape Game is rolling out two new puzzle adventures, both for San Francisco residents looking to redeem their puzzle-solving reputations, and for global participants looking for bragging rights.
Starting July 5th, veterans of San Francisco's first installment of Real Escape Game and newcomers alike will have the chance to improve on their 10% completion rate as they attempt to unravel The Crazy Last Will of Dr. Mad, a physicist who requested that his will be sealed for 50 years after his passing. Dr. Mad's challenge, "can you unravel the mystery of my life's work," is unlikely to be a simple disposition of Mad's possessions. But what else would you expect from a Mad scientist? Tickets to The Crazy Last Will of Dr. Mad, which will be held at the Fort Mason Center, are $22.
Prior to Real Escape Game's North American debut, the game's founder Takao Kato explained to ARGNet that "as a kid, I always wanted to 'live in the story,' and survive the adventure, solve the mystery, and be a hero like the characters in books I loved as a child…Real Escape Game is an opportunity to make these dreams come true." Sara Thacher, one of the participants of the first installment (and one of the devious minds behind the Jejune Institute), noted in her review of the experience that "it was an elegant puzzle hunt. I think everyone from the girls in Classic Lolita getups at the table behind us, to the sweatshirt-clad MIT Mystery hunt regulars on my team enjoyed themselves." Thacher went on to add that this was a puzzle hunt with narrative underpinnings, and not a literal translation of the screen-based Escape the Room games that helped inspire the Real Escape Game franchise…many of the tropes of the genre, such as riffling around for hidden keys, were absent.
For those looking for a more traditional Escape the Room experience, Real Escape Game is holding a live online challenge on July 24th (1PM GMT, 9AM EST) in both Japanese and English. Players will have one hour to collect clues within an online locked room, racing against other players for the bragging rights of first to escape. A 15-minute version of the game is free to play, giving players a brief preview, but admission for the main event is $5.
Tickets to the San Francisco hunt can be found at Real Escape Game's English website at RealEscapeGame.com, but if you're interested in the live online game, head over to REGame.jp.
Over the last five years, Takao Kato has locked over 100,000 people in bars, clubs, cathedrals, and baseball stadiums with a deceptively simple challenge: solve the puzzles within the time limit, and escape. And between March 23rd and March 25th, Kato is taking his narrative puzzle experience, Real Escape Game: The Escape from the Werewolf Village to San Francisco's Japantown for a locked room mystery that is quickly selling out.
The premise, inspired by the popular social game Werewolf, is simple. There are sixteen villagers, three of whom are werewolves. Players have 90 minutes to work together in groups to navigate a series of increasingly difficult puzzles that will help them identify the werewolves, save the villagers, and escape. The game is designed to provide a challenge, and Kato explains that players have direct control over the unfolding narrative, noting
[t]he story unravels with each mystery completed by the players and their teammates. If you do nothing, nothing moves forward. And there are no guarantees that you're even going to finish everything. So you're going to have to give it your all if you want to put all the pieces together and finish the final puzzle in time.
Past iterations of Real Escape Game prove that Kato is true to his word: as the Real Escape Game's explanatory video states, only 9.6% of participants completed The Escape from the Werewolf Village when it was first conducted at Tokyo Culture Culture, with similar success rates for the game when it played out in Taiwan. After failing to complete a Real Escape Game murder mystery in Tokyo, Japan Times writer Edan Corkill explains "the most difficult part of a Real Escape Game is not answering questions — but identifying them in the first place."