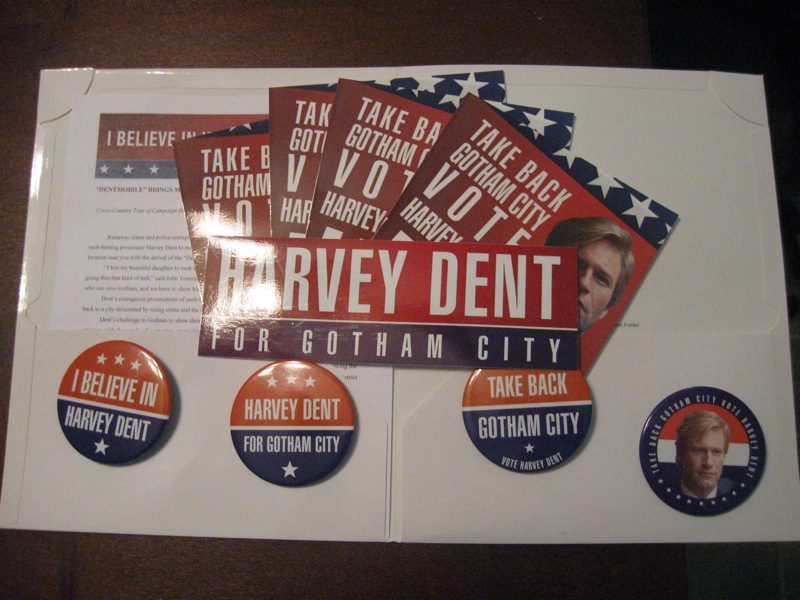 As most of you are undoubtedly aware, ARGFest-o-Con 2009 starts this Friday in Portland, Oregon, and those attending are in for an amazing time. With a Must Love Robots speed dating event, a stellar line-up of panel discussions and presentations on Saturday, and a keynote dinner featuring Jordan Weisman of Smith & Tinker, this year's event looks to be an entertaining and exciting event. Of course, you can get the latest information at the official conference web site, and we will have panel summaries and event news here starting next week.
One of the things that the public may not realize is that the costs involved in presenting and producing ARGFest-o-Con are high. I know from being part of the Directing Committee that it's more than just blood, sweat and tears being poured into the planning of this year's event. There would be no conference if not for the generous donations of so many (including the conference sponsors) and the hours of work put in by volunteers. Now, you have a chance to be an important contributor to ARGFest-o-Con and Unfiction by bidding on rare, valuable ARG swag! Tomorrow night, starting at 5:30 pm PT, ARGNet is hosting an auction that will take place live at the Courtyard by Marriott Portland City Center. The auction will involve those in attendance both at the hotel and in the #arg-netcast chat room on chat1.ustream.tv. The auction will be streamed live at live.argnetcast.com and is estimated to last just over an hour. You can see all of the items at the ARGFest-o-Con wiki, and if you are keen on a particular item or three, send in a pre-auction bid to [email protected].
All proceeds from the auction go directly to ARGFest-o-Con, so bid early and bid often. There are a lot of one-of-a-kind and rare items in the auction, and items left over after tomorrow's auction will go into a separate silent auction available only to ARGFest-o-Con attendees on Saturday. We hope to see many of our readers at live.argnetcast.com tomorrow night for this event!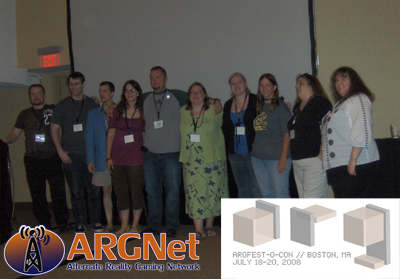 This article is the fifth in a series, providing summaries of the panel presentations at ARGFest-o-Con 2008 in Boston
In 2004, Sean Stacey was traveling through France with a friend. Walking along the Champs Elysees, he encountered a man on the street making the most incredible whistling sounds he ever heard. For the next few days, Sean diligently practiced his whistle, contorting his face in new and unfamiliar ways, attempting to duplicate the sound that fascinated him so much. Finally, his friend explained to him that the man on the street was selling bird whistles. He didn't say anything before because, "well, you were getting pretty good." Unfiction is kind of like that. The moral of this story is that Sean C. Stacey is one heck of a good whistler.
The story also helps explain the twists and turns in the evolution of Unfiction.com, the largest discussion board devoted to alternate reality games on my bookmark list. When Sean created the website during the alternate reality game Lockjaw in 2002, running a forum was the last thing he wanted to do. He still harbors hopes that Unfiction will not live forever, because the genre will expand beyond needing a single resource.
Sean credited Adrian Hon, Co-Founder and Chief Creative Officer at Six to Start, with creating the first alternate reality gaming wiki. He followed that up by noting that no one actually used the wiki. Using wikis, he claims, augment community rather than create it. Thus, the only way you can get Sean to create a wiki on his new website, Despoiler.org, is by requesting one. People like to teach others, and wikis can lower entry barriers for complex topics: but only if a community exists to develop it. One of the true pleasures of the Unfiction community, Sean explains, is that reputation is not an issue in how discussions are handled. Everyone, no matter how well known or well liked, must rely on persuasion to justify their thoughts and opinions.
A press release issued earlier today outlines great news for alternate reality gaming community site Unfiction. The site has received its largest donation to date of $8,000 from Perplex City Season One winner and Unfiction forum member Andy Darley (Rand0m).
Darley, who made news last month after finding the Receda Cube and earning $200,000 (US) as part of the Perplex City ARG, explained his generous donation by saying, "Perplex City is the first ARG to end with a significant sum of money in the hands of one of its players, and it's only right that some of that money should find its way back to benefit the whole ARG community."  Explaining why he chose Unfiction, he added, "While Unfiction certainly isn't the only place where PXC players gather – indeed it may no longer even be the main place – it's still the biggest and most important resource for players across the broad spectrum of ARGs".
With over 13,000 registered members, Unfiction is the largest online community dedicated towards the promotion and discussion of Alternate Reality Games, chaotic fiction, and related puzzles.  In addition to providing the server space for game discussion and archival, Unfiction is responsible for sponsoring  ARGFest-o-Con, a yearly conference that allows players and developers to get together for a weekend of discussions on the genre.
Unfiction founder (and ARGNet staff writer) Sean C. Stacey expressed his gratitude for Darley's generous donation, and announced plans to use the funds to develop alternative revenue streams and to help defray the site's operating costs. Past efforts to subsidize operating and hosting costs at Unfiction have included a donation drive and a Perplex City-themed online auction, and similar efforts will continue to take place including another series of online auctions scheduled to occur later this month.