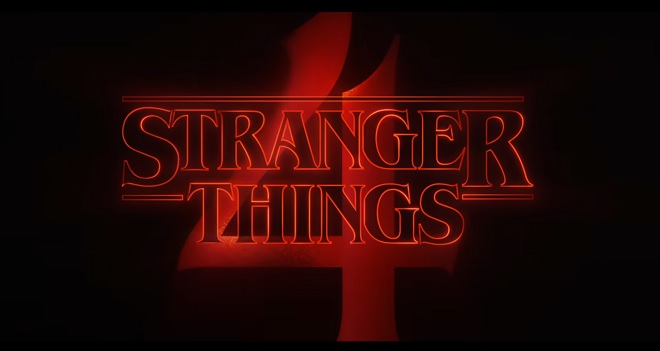 Author's Note: if you're looking for up-to-date answers to the weekly challenges, this Google Doc is providing updates on the solutions as new Lite Brite-based puzzles launch.
Stranger Things is returning for its fourth season on May 27th, bringing back one of Netflix's largest and longest running success stories – according to Netflix, fans have logged over a billion hours watching the series. So it shouldn't be too much of a surprise that Netflix is having a little fun with the leadup to launch through what they've cheekily dubbed an "interactive curiosity voyage" centered around the website I Am Hell' s Master, launching in earnest on April 29th.
Finding Hell's Master: Cracking Stranger Things' Hidden Trailer Puzzle
Last week, Netflix released the official trailer for Stranger Things 4, and fans quickly noticed that amidst a flurry of extra-dimensional lightning strikes, one particular frame at the 1:59 marker showed a particularly interesting image featuring colorful bursts of energy, labeled with four additional timestamps.
Taken individually, the images found at each of the timestamps was fairly sedate: an image of Billy Hargrove's grave, a Hellfire Club baseball tshirt, a government building in Lenora Hills, and a Dungeon Master's screen.
However, when those two images are superimposed, a message is revealed – I AM HELL'S MASTER is legible, if you read the characters in timestamp order. Fans put together the pieces relatively quickly, and patted themselves on the back for a job unearthing extra-dimensional easter eggs, well done.
That changed yesterday, when Netflix reposted a TikTok video from @woozzs breaking down the solve to their Instagram, with a teasing message:
the world is full of obvious things which nobody by any chance ever observes…

close but not close enough 🙃
After another round of investigations, fans put together the missing pieces and treated the solution as a URL, leading to the IAmHellsMaster.com website.
While finding the perfect frame from each timestamp might have lead to slight headaches, the construction of this puzzle was exceptionally satisfying, given Stranger Things' themes of overlapping layers of reality that most people blissfully ignore.
Signs of Things to Come: I Am Speculating On Hell's Master
The I Am Hell's Master website itself is currently fairly sparse. A gently swaying grandfather clock is the centerpiece to the website, as a countdown ticks down the seconds to 7PM EST on April 29th. Clicking on the Upside Down "ENTER" opens up a registration popup that says "Congrats for uncovering the clues and joining Stranger Things 4's interactive curiosity voyage, brought to you by Candy Digital and Netflix", along with a link to sign up for updates.
Shortly after registering, an email titled "Welcome, Nerds" sets the stage for what's to come, noting:
As a fan of Netflix's STRANGER THINGS you know nothing is ever what it seems, especially in the Upside Down, so trust us when we tell you that this is just the beginning.

Very soon, you'll be able to immerse yourself in the mystery by decoding messages, solving puzzles, and even collecting rewards along the way. But for now, thanks for playing with Candy and make sure to follow Stranger Things official channels on Instagram, Twitter, and Youtube for more curious information…
In terms of confirmed information, that's where things currently stand. The upcoming "interactive curiosity voyage" may or may not be an alternate reality game, but will involve "decoding messages, solving puzzles, and…collecting rewards." Candy Digital's involvement, however, implies the "collecting rewards" portion is likely to touch on NFTs, as the Vaynerchuk-backed company's prior work has focused on creating NFTs for Major League Baseball, College Basketball, and Motorsport Racing.
Turning Stranger Things Immersive Experiences Upside Down
While I Am Hell's Master is one of the first inklings of activity for the show's fourth season, it is not the only one: Netflix is working in partnership with Fever to bring Stranger Things: The Experience to New York City and San Francisco for immersive activations set in the town of Hawkins starting May 7th. Fever has already held a few pop-up store events, in anticipation for the full extravaganza.
But if the past is any indication, there's likely more to come. Stranger Things season 3 was particularly aggressive in providing immersive outlets for Stranger Things fans. Their Baskin Robbins ARG that constructed pop-up Scoops Ahoy locations before tasking players with a massive, multi-part text adventure might have been one of the more prominent examples, but (as ARGNet's coverage of the Baskin Robbins ARG noted), additional collaborations saw the town of Hawkins coming to life through partnerships with Nike, Microsoft, and Wizards of the Coast themselves. Windows 1.11 in particular brought to life a corrupted version of Microsoft's old operating system through an extremely ARG-like single-player experience.
So while the main immersive focus for Stranger Things 4 is still the I Am Hell's Master countdown expiring next Friday night, don't be surprised if the Stranger Things Experience isn't the only bit of fun Netflix has with their most viewed show.
Make sure to sign up on IAmHellsMaster.com before the countdown expires. For those looking for some community support, the StARGcourt Mall Discord (which was the central hub for players during the Baskin Robbins Scoops Ahoy ARG) is still around, and the r/StrangerThings subreddit was active in solving the first challenge. The StARGcourt Mall Discord is also maintaining a document with solve progress, which should be your best place for up-to-the-minute progress updates.
Updated 4/29 to add: The first challenge posted to IAmHellsMaster.com tasked players with completing a Lite-Brite themed puzzle, to open a portal to (or from) the Upside Down.
After completing the grid, a message appears inviting players to return on June 1st, after season 4's premiere:
Congrats, Nerd!

Now that you know how to play, the real game begins June 1st.

Figure out our clues and complete our puzzles for the chance to win free special edition Stranger Things digital AND physical collectibles. Your curiosity voyage is only just beginning…

Make sure to follow Stranger Things on Instagram, Twitter and Facebook for upcoming clues and don't forget to watch the new season May 27th, only on Netflix.

You never know what you might find, maybe even right here…

Over and Out.
Updated 6/1 to add: Candy Digital went live with a page providing an overview of the next month of puzzling. As with the introductory puzzle, the Lite Brite will be used to solve the puzzles, with clues hidden "anywhere and everywhere", with hints on Stranger Things social channels and Candy's Discord. The countdown for the first of those puzzles runs ends at 8pm EST, June 1st.
The first set of players who complete the four puzzles and register on Candy.com are eligible to receive a free Stranger Things NFT for each puzzle – hidden in those rewards are clues to a final community puzzle.