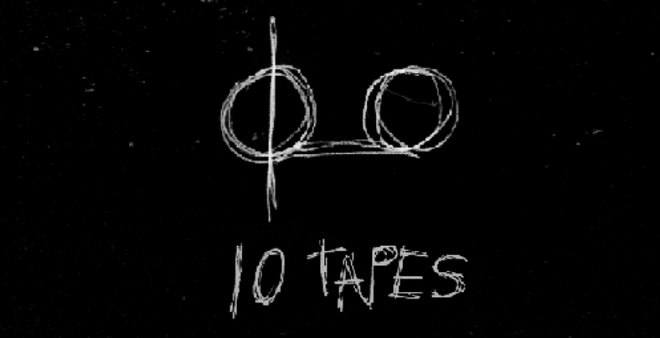 Earlier this spring, the TikTok user hamcitynr2 moved in to a new ground floor apartment in Stockholm. A few weeks after settling in, he found a strange flyer with GPS coordinates taped onto a road sign outside his apartment, just out of reach from the street. Curious, he did what all too many of us would have done in that situation: he balanced precariously on his windowsill, snatched the flyer, and went off to investigate the coordinates with the words, "beautiful day to not get murdered."
During that outing, hamcitynr2 (commonly referred to his channel's followers as "H") discovered the first of what he would learn was a series of ten VHS tapes, hidden by an unknown figure for equally unknown reasons. Once he realized what was going on, the channel was rebranded to 10_tapes, and a community was formed to help track them down. Over the past five months, H collaborated with his followers to recover seven of those tapes, acting as an impromptu Swedish tour guide through Stockholm's more esoteric locations for a deeply intimate scavenger hunt. But recently, the tapes have triggered strange events bordering on the paranormal, and other forces are starting to pay attention to H's otherwise lighthearted search.
10 Tapes: First Person Gaming, Empowered By Silence
As you might have guessed, 10 Tapes is a TikTok-centric alternate reality game created by the actor who plays H. The vast majority of videos are shot from a first-person perspective, with a silent H providing commentary through the videos' text captions. This is a highly effective method for the viewer to project themselves into H, as years of video games have conditioned our minds to embody avatars in exactly this fashion.
While 10 Tapes has increasingly expanded outside this framework by allowing H to speak to the camera, it's often reserved for moments where he is either recapping the story so far or describing events that took place off TikTok. Because of these updates, it's possible to experience 10 Tapes exclusively through updates to the main channel, although the story has spread across additional YouTube and TikTok channels, websites, and even a custom sidescrolling video game.
Because the game's structure draws so much inspiration from puzzle and scavenger hunts, the city of Stockholm plays a major role in the story. Alfred Nobel's Blasting Bunkers, Telefonplan's Colour By Numbers installation. The VÃ¥rbergstoppen Viewing Platforms. Even neighborhood street art installations, with public space features prominently in the ARG, in ways that go beyond passing reference or picturesque settings.
While the game has gradually introduced more narrative context around who keeps hiding the tapes and what is actually going on, the bulk of the experience to date remains centered on the process of uncovering each new VHS tape, with player decisions and advice serving as the driving factor behind practically every new upload. Because of this structure, 10 Tapes has a lot of videos. By the time this article posts, the story will have played out across over 100 "parts" on the main channel alone. However, "essential viewing" to get caught up is limited to a series of in-game recap videos filmed by H that are positively dripping with the character's dry wit.
Continue reading