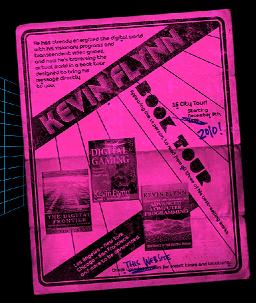 The week following Thanksgiving is usually a slow one as folks readjust to their daily routine post-turkey and gravy, but Flynn Lives players found themselves back in the thick of things. After a week's hiatus, presumably to give thanks for all the buzz fans have been creating, Flynn Lives was back with some flash today; a Flash-based puzzle, to be exact.
The main page for Flynn Lives updated with a link to a new puzzle, Gygax, which featured a cut-out pattern for a 3-dimensional Bit from the original Tron film as an homage to Dungeons & Dragons co-creator Gary Gygax's love of multi-sided dice. Additional information in the read-only Flynn Lives discussion forums helped players crack the puzzle in no time and in turn discover flynnlives.com/epiphany. With a few additional twists and turns players found themselves staring into pulse of a count-down timer.
End Game has begun with flynnlives.com/digitalpulse, a a call to action to retrace Kevin Flynn's steps during his final book tour. The site advises all Flynn Lives operatives to be prepared to hit the ground next Wednesday, at 11 am EST, in a final push to retrieve the remaining evidence and finally uncover what has happened to Kevin Flynn. A total of sixteen cities will take part in the final mission but the cities themselves have yet to be identified (excepting Los Angeles, New York, Chicago, and San Francisco which were named on the poster), a tactic reminiscent of the beginning of this viral and its first outing, Operation Zero Hour.
Flynn Lives is going out in style, so make sure you have your shoe laces tied and your GPS units handy, because when the time comes next week, Flynn Lives operatives will finally get the chance to find out what happened to Kevin Flynn: and that's one ride you do not want to miss out on. Keep your finger on the digital pulse, and be ready to hit the ground running next Wednesday.