Earlier this week, Fourth Wall Studios relaunched its website with a preview of things to come for the company and its first new experience on the company's proprietary RIDES platform in over two years. The experience, Home: A Ghost Story, provides a proof-of-concept for storytelling that organically weaves video content with other media like email, text messages, and even telephone calls. In the spirit of the season, Home follows two sisters who return to their mother's home to stage an intervention for her obsessive hoarding, only to learn that their mother wants to add one final piece to her collection.
Home: A Ghost Story starts out with a landing page that lets audience members choose the level of immersion for the experience. The Lite Experience plays out like a television pilot for a new season of The Twilight Zone, with 5 chapters of video content playing out over the course of 20 minutes, punctuated by texts, emails, and online chats between characters that appear directly to the right of the video at regular intervals. The Full Experience mirrors the content found in the Lite Experience but delivers the messages directly to your mobile device. During the registration process, visitors are asked to opt-in to their preferred level of involvement by providing contact information for emails, phone calls, and/or texts. This assures that when a character receives a phone call, the viewer's phone rings and the action pauses until the call is answered. When the story calls for an email, an email is delivered straight to the viewer's inbox. While most of the story's content is delivered directly, visitors will have to actively seek out an additional piece of content featuring a cameo from a voice quite familiar to veterans of I Love Bees.
Earlier today, Fourth Wall Studios announced it received an initial $15 million round of financing from Dr. Patrick Soon-Shiong, along with access to a fund of up to $200 million through the Soon-Shiong's California Capital Equity. VentureBeat reports that the "studio will be incorporated as a new company under the same name." A number of prominent alternate reality game developers including Steve Peters, Maureen McHugh, Jay Bushman, and Jackie Turnure have announced they have joined this new company, which stakes the claim as the first Alternate Reality Entertainment (ARE) studio.
Fourth Wall Studios was founded by alternate reality gaming powerhouses Elan Lee, Sean Stewart, and Jim Stewartson after the three stepped down from 42 Entertainment. After departing 42 Entertainment, the three worked on projects including Watchmen's 6 Minutes to Midnight, Eagle Eye: Free Fall Halo 3: ODST's in-game experience Sadie's Story. In an interview with Jawbone TV, Modernista revealed Fourth Wall's involvement in the Dexter alternate reality game as well. Now, with additional funding from Soon-Shiong, Fourth Wall aims to extend these immersive storytelling techniques to mainstream audiences by enabling the interaction with fictional worlds using mobile devices, browsers, and social networks. The studio plans on developing original content and content made in partnership with top-tier creators from film, television, video games and publishing. These experiences, according to the Los Angeles Times, would be financed through sponsorships and micro-transactions.
"Prepare To Drop"
Those words have been resounding through the gaming community for months, and the clashing drums of excited gamers are growing as the release date for Halo 3: ODST draws nearer. But there's something more in this video game release that's attracting attention.
Back in 2004, an ARG milestone was achieved with the launch of a defining marketing campaign for the genre. Before Halo 2 was released, a mysterious URL appeared momentarily in a promotional trailer, leading the way to the discovery of another world, another story within the Halo universe. The campaign became known as "I Love Bees". That campaign is what introduced me to the world of ARGs. Already being an enormous Halo fan, the combination of the Halo science fiction universe with this method of story-telling had me immediately hooked.
With each iteration of the Halo video game franchise, there has been some form of extended experience, viral campaign, or ARG. For Halo 3 it was Iris. Bungie even produced their own relatively localized mysteries, such as the Cortana Letters leading up to Halo: Combat Evolved, and other strange A.I. users posting and interacting on the Bungie.net forums like The Smuggler and The Superintendent. Bungie had created a diverse, dynamic, and vast universe in which many stories could be told beyond the video game genre.
Sure enough, Halo 3: ODST will have a unique extended experience of its own. Or rather, an embedded tangential experience, for lack of a better term. Within the game, players will be able to uncover bits and pieces of a separate story arc throughout the campaign. This story is being called "Sadie's Story". Created by Fourth Wall Studios in partnership with Bungie Studios' Joe Staten and Ashley Wood, it's an audio drama (not unlike the radio drama revealed in I Love Bees) that utilizes comic-book style story-telling and will reveal an exciting mystery throughout the campaign, told from the perspective of Sadie- a New Mombasa civilian, and her experience through the ordeal leading up to New Mombasa's destruction. It's reported to contain even more voice acting than ODST itself.
Editor's note: Brandie was ARGNet's press presence at this year's Austin Game Developers Conference. This is the first in a series on her experiences at the conference.
At the Austin GDC's only session devoted exclusively to Alternate Reality Games, Elan Lee of Fourth Wall Studios shared his thoughts on trust between ARG designers and players along with anecdotes from some of the most well-known cross-media experiences like AI and I Love Bees. In an interactive, real-time game-story experience, the level of trust between the designers (Puppet Masters, if you will) and the players can have a profound effect on the outcome of the game and the memories the players carry away at the end. "ARGs: Fake Websites, Invented Stories, Automated Phone Calls, and Other Methods to Earn the Trust of a Community" examined the building of trust as an integral part of the game-story experience.
Elan Lee opened the session with a look back at "The Beast" the promotional experience designed for the movie A.I.: Artificial Intelligence. Steven Spielberg came to Microsoft and said he wanted to do something promotional that would familiarize his audience with the A.I. world before the movie opened. What evolved from this was a series of websites, puzzles, and events that attracted thousands of dedicated players – who, incidentally, solved several weeks worth of content in a matter of hours. The designers had to scramble to keep adding content, altering the storyline as needed, and even responding to their audience by taking an initially unimportant but player-beloved character (The Red King) and promoting him to the character A-List.
After "The Beast" ended, Elan was surprised to receive three wedding invitations from players who had been deeply affected by their experience with the game. He realized, he said, that something magical was happening, when an audience felt close enough to a total stranger to invite him to participate in their real-life celebrations. "The Beast" and its designers had evoked a trust that transcended the anonymity of the internet and crossed over into the real world. What builds this intense sense of trust? According to Elan, one of the keys to trust is… a magnet.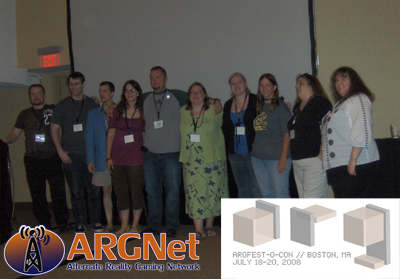 This article is the first in a series, providing summaries of the panel presentations at ARGFest-o-Con 2008 in Boston.
The first panel discussion featured Evan Jones of Stitch Media as the moderator, Yomi Ayeni (Expanding Universe), Elan Lee (Fourth Wall Studios), Lance Weiler (Seize the Media), and Blair Erickson (Millions of Us). The panel explored the challenges and advantages that arise from cross-media productions.
Blair Erickson started the discussion with a description of an early project, an alternate reality game promoting World Wrestling Entertainment. Recognizing that a major draw of wrestling is the love of a fight, Erickson moved the rivalry between two wrestlers onto virtual worlds, with a game that played out over more than 100,000 threads, with players contributing in support of their favored athlete. The game culminated in Summer Slam, a pay-per-view match between the wrestlers. More recently, Millions of Us developed an ARG for the Sarah Connor Chronicles, which delved deep into the franchise's mythology.
Yomi Ayeni discussed his work with Violette's Dream, an ARG running as part of the upcoming video game, Velvet Assassin. The video game is based on the true story of a female soldier in World War II. The alternate reality portion of the game operates under the assumption that the game's protagonist repurposed Nazi gold to help undercover agents in need. The aim was to make the game as real to life as possible: the first gold bar was found by former ARGNet writer Dee Cook in Fredericksburg, Texas, a town with deep historical ties to Germany. Ayeni described the project as a "fingerprintless" project that runs parallel to the video game.