All images courtesy of Allison Kern Photography
Magic appears to have left the realm of Cambria, and many of its inhabitants, human and non-human alike, are struggling to cope with its unexpected absence. A scourge of the undead emerged throughout the land, and the machinations of the inscrutable "Godfather" appears to be spreading strife among the Houses of the realm. This is the situation that greeted the players of Game Theatre's Dragon Thrones 3: Exodus Magi upon arrival at Bryn Mawr College for a long weekend of hybrid gameplay, mixing megagames, blockbuster LARP, tabletop gaming, and puzzle-solving into a hybrid event that served as a surprisingly effective primer to different corners of the broader immersive play space. Individual players were free to pursue whatever narrative or immersive hooks struck their fancy, while their Houses as a collective benefited from members stretching out of their comfort zones into all the different features the game had to offer.
Explaining what Dragon Thrones offered its players requires a step back to examine its component parts, before understanding how those parts fit together to make a broader story. What follows is an introduction to a number of different flavors of immersive play, as told through the magical lens of Dragon Thrones.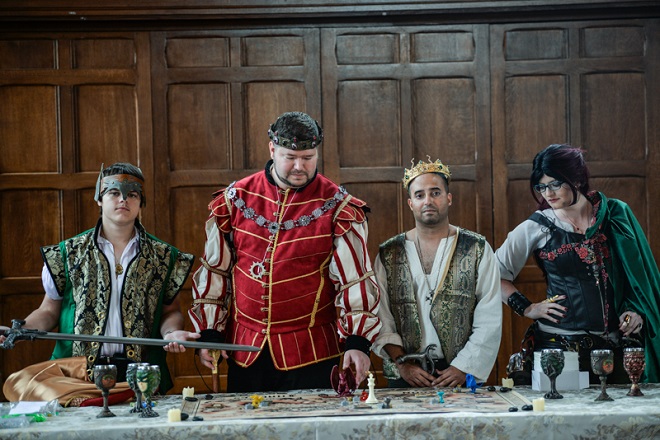 Megagames: These Rules Subject to Negotiation
House Wyndon's Fortress of Sadathea was taken over by an army of the undead, and troops were falling to the horde en masse in an effort to regain control of Wyndon's seat of power. Things were looking dire for the beleaguered nation-state, until the King of Ardmore completed an arcane ritual that enabled him to ascend to literal godhood, transforming into Lord Lucent of the Light. With his divine blessing on the battlefield, previously slain troops were brought back to light, and the undead forces were routed.
Most traditional board games don't include mechanics that let its players ascend to godhood as a literal deus ex machina, and doing so would generally be considered a game-breaking mechanic. But megagames are the board gaming equivalent of the classic improv game "yes, and" – while megagames have a core set of rules, gamemasters known as the "Control" exist to give players the flexibility to find creative solutions outside the pre-defined rules without breaking the experience. In the case of Dragon Thrones, every faction was gifted with a single source of untapped potential – in the case of Ardmore, that source was Ardmore's Dragon Throne, a throne constructed out of the corpse of an elder dragon. The King of Ardmore would approach the Game Theatre team embedded into the story as characters with his plan, and they would in turn impose costs to enact that plan, and describe what form the results of that plan would have on the megagame itself.
While the King of Ardmore's deification is an extreme example, this flexible ruleset is as an integral a function of megagames as the large team sizes that make separating fact from fiction a practical impossibility. At PAX Unplugged 2017, Ironmark Games ran The World Turned Upside Down, a "short" four hour megagame themed around the American Revolution. Players were assigned roles as famous figures from the fledgling American states or the British Empire, and lobbied for dominance through legislative finesse, military might, and a deft hand at espionage. I played as a British spy, where the two teams had the opportunity to steal resources from each other through a card game. As the evening progressed, it became clear that things were not going well for the British, and the spies collectively planned to embezzle resources and retire wealthy to the Bahamas. We approached Control with our plan, and they set a fee of how many resources we'd need to collect to enact this plan. This type of "last turn madness" is so common for the genre that a podcast dedicated to the space adopted the term as its name.
But while traditional megagames typically use in-game currency and resources as the coin to power "rule-breaking" moves, Dragon Thrones' biggest moves were powered by investments in time, through the live-action role playing game and puzzle elements.
Live Action Role Playing: A Flavor for Every Player
One of Helfarian's diplomats called me over. With magic gone, Helfarian's Iron Drakes were unable to fly due to the heavy weight of their construction. In exchange for sharing the findings of the research, Wyndon offered up access to their wyverns for study, along with access to their wyvern handlers. As Helfarian's engineer, I was called over to seal the deal and develop a plan of action for redeploying the engines of war. Since I was also serving as Master of Coin for the House in charge of managing Helfaria's progression along the various megagaming skill trees, I diverted funds to the development of this special unit and provided our General with a new force to bring to bear on the battlefield.
Since LARPs have the potential to leave players both physically and emotionally vulnerable, signing up for Dragon Thrones starts with an introductory call to feel out what players are looking for in an experience, as well as gauging whether they might play nicely with others. Using that information, every player is assigned a character and backstory to better fit into the world. In the world of Cambria, I was given the role of the engineer Nikol Bellum of House Helfaria, and provided with two pages of backstory explaining how I came to find a place in my Kingdom and my personal goals for the weekend, along with what I knew about the other members of other players pre-Cambrian Summit, along with skeins of plot threads that could potentially drive collaboration and conflict. These character descriptions were delivered weeks in advance, giving players the opportunity to negotiate tweaks and modifications to create the character they wanted to play for the long weekend.
Every House had a member of the Game Theatre team embedded as both character and gamemaster, serving as an in-world concierge to guide players through the various challenges, and to check in to ensure players were enjoying themselves along the way. Dragon Thrones is a salon-style LARP, focused on creating and encouraging interactions between players unlike the more combat-focused boffer LARP format. So while many characters brought foam weapons as part of their costuming, players could not use them against each other directly. Instead, the focus was on role-playing through relationships and court intrigue, complemented with questing for the more action-packed tasks, which took a variety of forms.
Lizard and Flower, a pair of fairies idling in the Bryn Mawr courtyard served as quest-givers for many of the more exploratory quests of Dragon Thrones, guiding groups of players through some of the campus' more iconic locations to help players tackle some of the more global challenges of the game, like the recovery of magic through collecting physical orbs and cornerstones of magic that contained power to influence the world of Cambria, either through the megagame or more personal pursuits. For one particularly memorable moment, I joined a group of players in translating a shroud through an impromptu theatrical performance recounting a tale from the two fairies' pasts. Teas, hand-fasting ceremonies, and live performances from dancers and magicians also served to create the 360 degree illusion of being immersed in the world of Cambria for those who wanted to evoke that sense of realism. And while Dragon Thrones is not a boffer LARP, lessons in foam weapon combat were provided, culminating in a boffer tourney to whet the appetites of the more combat-inclined.