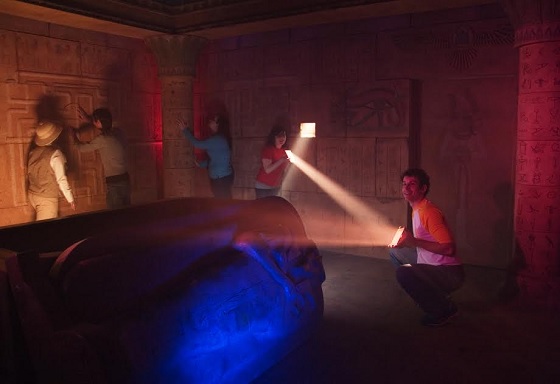 Image of Tomb's sarcophagus illumination puzzle. ©2015, 5 Wits Productions, Inc.  Used by permission.
The first time I visited Boston, I met up with a group of friends and broke into an ancient Egyptian burial chamber. The tomb's resident pharaoh was not exceptionally happy about our flagrant act of trespass, and forced our group of amateur archaeologists to solve a series of puzzles before barely escaping with our lives.
The rooms in the tomb were designed with a family-friendly audience in mind, and our guide throughout the experience embraced his role with an exuberant gusto I had only seen before from a skipper on Disney's Jungle Cruise. The experience managed to make even familiar puzzles feel extraordinary: no matter how many times you've solved Tower of Hanoi puzzles in the comfort of your own home, it's a completely different experience when you're passing oversized pieces across the room while the ceiling is slowly crashing down overhead.
When 5 Wits' puzzle adventure Tomb set up shop in Boston in 2004, it was something of a rarity. The interactive exhibit mixed theatrics with physical puzzles to make its guests feel like swashbuckling adventurers narrowly escaping danger thanks to their collective intelligence. And the design was flexible enough to reward that success, allowing for multiple endings based on groups'  performance. While the original location is now closed, the 5-Wits moved Tomb to Tennessee, launching additional puzzle experiences in Washington DC, Massachusetts, and New York covering themes ranging from undersea exploration to espionage. Over the past decade, this type of immersive puzzle experience has expanded exponentially, with hundreds of locations putting down roots across the globe. For many, visiting the nearest real-life escape room is a day-trip away.
In recent years, the United States Government has launched a number of experiments in alternate reality games and collective intelligence. To celebrate the 40th anniversary of ARPANET in 2009, the Department of Defense hid ten red weather balloons across the country with a $40,000 prize to the first organization to verify the location of all ten balloons. That same year, the Centers for Disease Control and Prevention funded an alternate reality game designed to help set Hawaii's pandemic priorities. And now, the intelligence community is interested in exploring how alternate reality games could serve as a platform for social, behavioral, and psychological research.
As initially reported on WIRED's Danger Room blog, the Intelligence Advanced Research Projects Activity (IARPA) issued a Request for Information on "Using Alternate Reality Environments to Help Enrich Research Efforts" (UAREHERE). IARPA is particularly interested in collecting information on the practicalities of running research in tandem with alternate reality games, managing privacy and safety concerns amongst alternate reality game players, and designing a game that balances free play and interactions with more controlled data collection.
Walt Disney Imagineering has been using the Disney theme parks and resorts as centers for innovation in storytelling for decades, finding interesting ways to create rich experiences that play out across media. And while the team may be better known for joining narrative with animatronics and special effects for rides like the Haunted Mansion, the team has developed a number of more subtle transmedia experiences that experimented with location-based storytelling. For Phineas and Ferb: Agent P's World Showcase Adventure (previously the Kim Possible World Showcase Adventure), Walt Disney World visitors use a mobile phone to activate a series of clues hidden in Epcot's architectural design, while Sorcerors of the Magic Kingom uses collectible cards to allow Disney World visitors to battle against Disney villains at magic portals scattered across the resort. And thanks to Walt Disney's Living Worlds program, you might have the chance to collaborate with the Disney Imagineers on your own great idea.
Walt Disney Imagineering Research & Development (WDI R&D) announced the Living Worlds program during last month's StoryWorld Conference as an effort to catalyze and support the growing transmedia community. Interested applicants are tasked with submitting a high-level proposal by December 1st for a location-based narrative experience intended to run for at least two weeks that gives participants the ability to influence the story without costing "more than the GDP of any single nation to mount." The story cannot use any existing intellectual properties, including Disney properties. During the second round, select participants will be asked to flesh out the concepts into a more developed proposal for consideration.
Scott Trowbridge, Creative Vice President at WDI R&D, says he sees the program as an opportunity for applicants "to gain experience and expertise by giving them an opportunity to produce their work at a professional level." He adds, "[w]e're on the cusp of a significant evolution in narrative form. The combination of emerging technologies, societal shifts and audience expectations all combine to make this an exciting time for artists interested in breaking the frames for traditional storytelling."
While the opportunity to collaborate with Disney Imagineering to realize your dream project is compelling, it's important to be familiar with the terms and conditions that come attached to the application. While all applicants retain full ownership of their intellectual property, all submissions should be considered public and non-confidential, and applicants grant WDI "a fully paid-up, transferable, non-exclusive, perpetual, worldwide, irrevocable, royalty-free license" to their submissions, along with the right to sub-license the work to third parties. When asked for clarification on the terms, Trowbridge explained that "given that we are engaging [the] artists with the intent to produce their proposal, we must be granted the rights to do so, or in other words, a license to use their creative work, which must be transferable and perpetual." Trowbridge stressed that WDI R&D would work with artists whose proposals were selected to set up an agreement and working relationship to develop the proposal through to complete concept and potential production.
A van is careening down a winding road, followed in close pursuit by a police car, sirens blaring. The passenger of the van, Ben Wilkins, urgently questioned by the driver (not named in the chapter but later on we find out his name is "Charles"),  swears he doesn't know why they're chasing him or what  they want, but mentions "a package" back at his apartment. Charles tells Ben to connect his phone to the laptop in the van, where he'll give Ben "a Jack app" to buy him time to get back to his place and grab the package, and so that he can contact Ben afterwards. A policeman leans out of the police cruiser's passenger window and starts to shoot at the van…
Daybreak 2012, a transmedia webseries by Tim Kring (Heroes, Conspiracy for Good), launched on May 31st with the release of the first of 5 weekly chapters of the webseries on Daybreak2012.com. Along with the Daybreak 2012 website, the Jack Boxers app was also released for both the iPhone and Android smartphones, along with an accompanying website, We Are The Jack Boxers. The purpose of both the app and the website is to enlist help for the cause of the Jack Boxers, who are fighting the forces of darkness and bringing the Truth to light.
The Truth, according to the Jack Boxers, is essential to many things – sacred geometry, energy and vibration, the works of Fibonacci and Tesla – but most importantly, the dodecahedron. In the final few episodes of Touch, the dodecahedron (or "doda") played a major role in the mythology of the show, and that mythology is carried over into Daybreak. However, while both Daybreak and Touch exist in the same "universe", the doda is the only common thread between the two stories.
Image of the MIT Mystery Hunt Closing Ceremonies with permission from photographer Chris Ball
"A dim witted love god."
I was gazing at the dense, tall pine trees around us, a refreshing change from the dry brown and yellow landscape we had already driven past. My wife and I, both Boston natives, were driving south from San Francisco for a wedding, and entertaining ourselves with one of our regular puzzle games. The first person provides a simple description, and the other must answer in the form of a rhyming adjective and noun pairing.
"Stupid Cupid," I stated rather than asking, confident in my answer. It's not a tough game, especially when you've played it together before as much as we have. That was in September of last year, and that drive inspired us to evolve our casual game into a much more challenging form: a puzzle for the 2012 MIT Mystery Hunt.
Last year our team Codex won the 2011 Hunt, which is held in January over Martin Luther King, Jr. Day weekend. It's a team-based puzzle solving competition that draws over a thousand diverse fans every year. The victors' prizes are well-earned respect, and the responsibility of writing and organizing the following year's Hunt. Each Hunt has a theme, ostensibly to provide a reason for solving all the puzzles. 2011's Hunt led by the team Metaphysical Plant, had a theme centered around video games. For 2012, Codex chose to focus on musical theater, specifically The Producers.
For the past eight years I competed in the Hunt and even wrote a handful of puzzles for friends, but none had the level of complexity and polish usually found during the Hunt. Every long-time Hunter has a list of puzzle ideas they would like to write someday if they given the opportunity. Translating those ideas into over a hundred working, solvable puzzles takes many thousands of man hours. As our team quickly recognized, years of solving puzzles doesn't immediately translate to creating puzzles and organizing a live event for hundreds of people. Thankfully, Codex's team of leaders and editors provided a framework for both novice and experienced writers to participate in the process.
Sorcerers of the Magic Kingdom is a new interactive experience that debuted on February 22 at the Walt Disney World Resort in Orlando, Florida. Jonathan Ackley, Senior Director and Show Producer Interactive of Walt Disney Imagineering, and his team spent four years designing and producing the game. Ackley gained early insights into interactivity as a game designer at Rocket Science Games and then by designing critically acclaimed adventure games for LucasArts, such as The Curse of Monkey Island, Day of the Tentacle, and Sam and Max Hit the Road. Ackley's interests in nontraditional, nonlinear storytelling gave him an awareness of the possibilities for integrating new technologies into location-based storytelling.
Before Ackley's work on Sorcerers, he tested interactive storytelling ideas through the Kim Possible attraction, also at Walt Disney World, treating it as a research and development project on using wireless technology (through Verizon). Ackley immediately saw the advantages that Disney had for environmental storytelling. In an interview with Ackley, he said, "We have themed environments. We are in a unique position to make you the main character in an adventure story. We're really lucky that we have such great stories and characters to draw from." The end result is that Sorcerers is an intriguing effort that pushes the boundaries of shared interactive experiences for families with children. Ackley described these experiences as opportunities for players to assume the roles of their favorite Disney protagonists as they make their way through the game. Families can share memories of their favorite films across generations and or create new stories as they play.
The objective of Sorcerers of the Magic Kingdom is to save the Magic Kingdom from Disney villains, including Cruella de Vil from 101 Dalmatians, the Evil Queen from Snow White, Dr. Facilier from The Princess and the Frog, and Scar from The Lion King. These villains were all recruited by Hades, ruler of the underworld and the archvillain from Hercules. Players become apprentices to Merlin, the sorcerer from The Sword in the Stone, who is Hades' chief opponent. In order to save the Magic Kingdom, players must stop the villains from capturing the shattered pieces of Merlin's crystal ball.