Two weeks ago, Showfall Media released a media keynote sharing the news about their exciting new horror comedy project, The Social Experiments. The live experience gives viewers at home control over aspects of the broadcast. The keynote was marred by some unexpected glitches and ominous messages about how "it got everyone…everyone but me", but a subsequent press release from the team at Showfall Media confirmed that those rogue frequencies are completely untrue, and can be ignored. So there's absolutely nothing to worry about when the show premieres tomorrow, May 24th at 6pm EST, on the RanbooLive Twitch channel.
It's worth noting that Showfall Media is a fictional company and The Social Experiments is the show-within-a-show for a new analog horror series called Generation Loss (GenLoss, for short). However, this Wednesday's livestream is real, with the Wednesday premiere followed by additional streams on the 26th and 28th to extend the story. The series is created by Ranboo, a Twitch streamer who already has experience with semi-scripted livestreaming through his involvement as a character within the Dream SMP Minecraft server.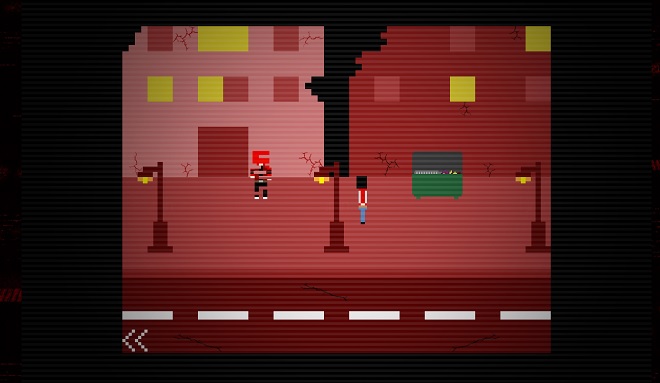 Early Glimpses at Generation Loss
While the team has kept fairly tight-lipped about exactly what Generation Loss will be, there have been a number of teasers hinting at things to come. In May 2022, the series released its first teaser trailer – a 30 second video with flashing messages that inspired a 16 minute Game Theory episode theorizing about what the project might bring. In the video, MatPat notes that "generation loss" is likely a reference to the gradual degradation of quality as analog media gets copied over time.
Recent teaser content posted to the Generation Loss Twitter account supports that theming, with a video of "The Hero" switching from 16-bit avatar to photorealism, just as the audio switches from an ominous 16-bit tune to a more orchestral version. Players can even take direct control of that avatar through a game on the Generation Loss website, where players can guide the Hero to talk with three characters, before encountering a glowing orb that further degrades the 16-bit world.

One video in particular implies that the show is dangerous: a series of five posters warn players to ignore The Social Experiments – "It has all changed. It has changed everything. It will change everything. I will stop it." These warnings are soon covered over with Missing Person posters. Calling the number leads to a voicemail from Showfall's Missing Person hotline that says "we appreciate your call, but you are not able to help us".
Over the weekend, Generation Loss even took out a banner on Times Square featuring the message "SAVE HIM" superimposed over the Hero's face – Showfall Media's press release begging their fans to pay no mind to "rogue frequencies" from an individual who wants to destroy their horror-comedy experience was in response to the outdoor advertisements as much as it was addressing the hijacked keynote.
So, the setup for Wednesday's premiere: Showfall Media is outwardly promoting a lighthearted horror comedy series called The Social Experiments. But something has gone wrong enough that even watching the show on RanbooLive at 6pm EST on March 24th is dangerous.
Continue reading