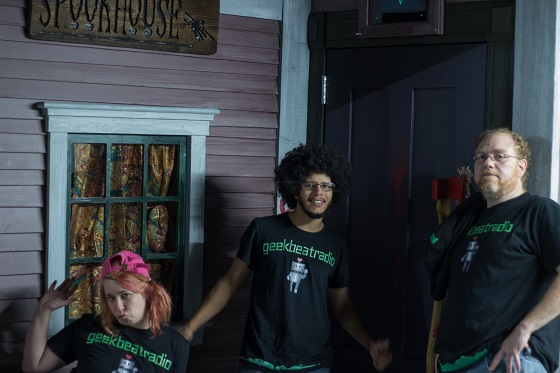 I have a problem. Years of playing alternate reality games and transmedia storytelling experiences have trained me to love room escape games. Getting locked in a room and relying on a group of friends to figure out what we're supposed to do to get out? Pretty much my dream come true. But there are a limited number of rooms in Philadelphia, and I've done them all. And for the most part, it's not as fun playing a room escape game for a second time. It's like going to the same murder mystery dinner party twice. Once you know everyone's secrets and whodunnit, you're either stuck watching on the sidelines, or end up spoiling the mystery for everyone else.
Okay, so I've done all three rooms currently running in Philadelphia. But there are hundreds of rooms running globally, so I can still scratch my room escape game itch when I'm on vacation…but I have to do it alone, unless the friends I'm visiting haven't similarly run through all of their local games. Otherwise, I'm stuck waiting for more rooms to open up in my area, or for escape room designers to find a way to make their games more replayable. Luckily, Boda Borg has come up with a solution to both problems.
Boda Borg started in Sweden, and has been running "reality games" since the mid-90s, long before the current wave of room escape games swept their way through Asia and North America. Boda Borg currently has eight locations in Sweden and Ireland, but only recently opened their first North American location in Boston. The core concept is the same: a small team of participants enter the room, and have to figure out how to use the surrounding objects to get out of the room. But because Boda Borg evolved independently from traditional room escape games, the experience is considerably different, in practice. The main difference? The rooms are designed for teams to fail fast, and fail frequently.
Boda Borg's business model enables this "fail fast" mentality. Rather than reserving a room for a particular time slot, Boda Borg Boston offers a 2-hour pass for $18, or an all-day pass for $28. This buys unlimited access to the building's 20 "Quests". Each Quest's difficulty is rated primarily on the physical demands of the rooms, with "Green" rooms focusing on cognitive challenges, "Red" quests requiring moderate physical activity, and "Black" quests requiring…well, let's just say "Black" quests lie somewhere between Survivor challenges and American Ninja Warrior, on the difficulty scale. Players who realize a Quest is too cognitively or physically demanding for them can easily move on and try a different room, finding the perfect fit for their personal appetite for challenge.