The year is 1962. It's been 17 years since the United States surrendered to the Axis Powers after the Nazis dropped the Heisenberg Device on Washington, DC. The formerly United States of America is split with the Japanese Pacific States to the west, and the Greater Nazi Reich to the east. This is the world of Amazon's The Man in the High Castle, based on the Philip K. Dick novel of the same name. This is the world of Resistance Radio – a four hour long pirate radio broadcast bridging the gap between seasons of the show.
Special Delivery from the Underground
After the war, the German company Electronica Musikanten won the contract to rebuild America's infrastructure. In the process, they developed "Uber Fidelity Vinyl", an evolution in high quality audio recording technology that has become the standard for music. But while the technological standards of music have improved, the cultural influences have suffered, with the Reich condemning any music influenced by gospel, jazz, blues, and R&B as "subversive". Over the past few days, a number of perfectly innocuous mailings from Electronica Musikanten went out, containing the patriotic album Kinderliederbuch zur Charakterbildung Werkstoffe – the Children's Songbook for Character Building.
Upon opening up the package, everything checks out as advertised. One Kinderliederbuch zur Charakterbildung album, a flyer for a Reich Youth Music concert, and a spare needle for the record player, just in case. Nothing a government censor would think to explore any further. But if they did, they might notice instructions at the bottom of the flyer: "fold page over to make the arrows touch". In an alternate timeline, MAD Magazine's Al Jaffee would make the American populace intimately familiar with this type of puzzle. In The Man in the High Castle's timeline, fold-in artwork belongs to the Resistance.
The secret message from Resistance Radio Headquarters points to the location of a speakeasy pop-up and concert at SXSW later this week…but that's still just skimming the surface.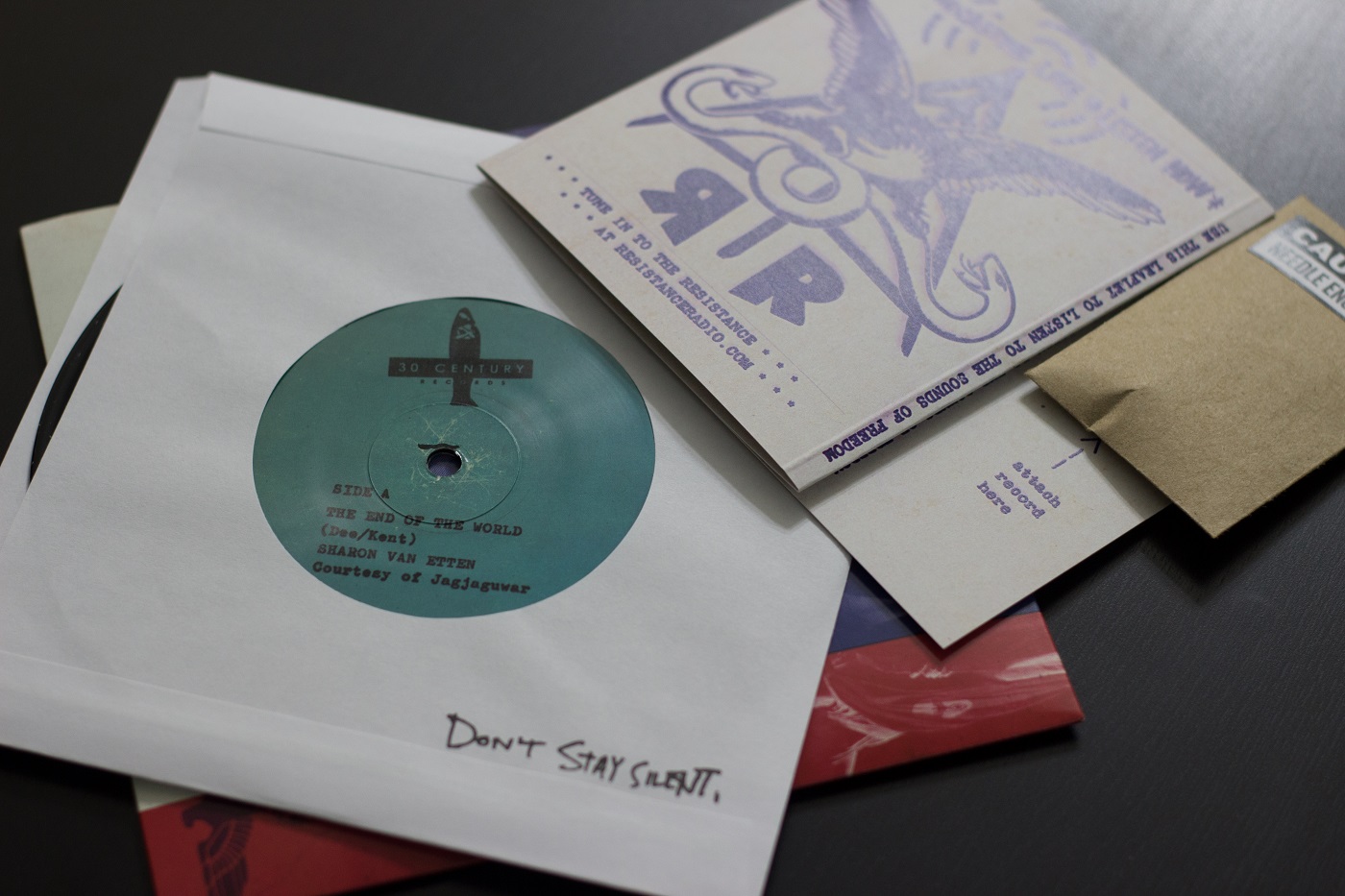 Packed inside the Kinderliederbuch zur Charakterbildung album sleeve is a vinyl record with music from the resistance, along with a do-it-yourself kit to turn the enclosed propaganda packet into a manual record player using the enclosed needle and a quarter. One side of the record features Sam Cohen's take on House of the Rising Sun, while the other features Sharon Van Etten's cover of The End of the World. The call to arms: "tune in to the Resistance at ResistanceRadio.com".